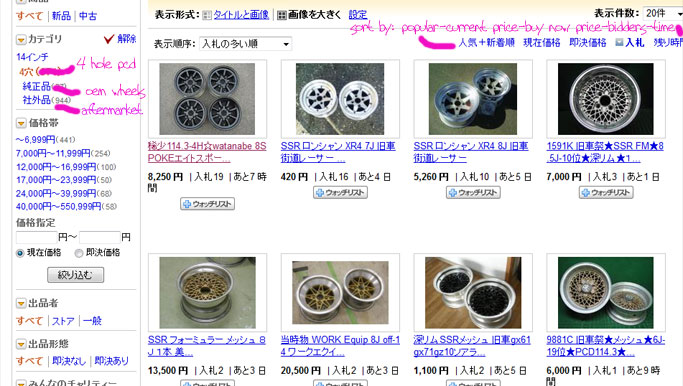 I'm getting lots of emails recently about buying things off Yahoo Auctions Japan, and I don't have the ability to help you all individually. I can't advise you much better on the condition of a particular item based on the written description much better than Babelfish, nor can I recommend an importer, but I can help you search and navigate. If you are keen to check it out, but can't even find the wheel category from the main page: CLICK HERE.
By default, searches made will return results only from the current category, so start by limiting wheel diameter, and bolt number on the left most column. Then start searching. English characters work relatively well for a lot of searches. "SSR" for example, will turn pretty good results if you are looks for SSR's, but if you are looking for Work wheels, and search "Work" the engine will only return a small percentage of the total number on auction because many Work wheels will be listed by our Japanese senpai using the katakana characters "ワーク". It's typically best to search twice, using both roman characters and katakana.
Below are a number of common kyusha wheel searches that I do, as well as a couple of tricks that I've been unwilling to share with anyone until now. Copy and paste to your hearts content.
Advan – アドバン – Yokohama – ヨコハマ
Bridgestone – ブリチストン – Potenza – ポテンザ
Enkei – エンケイ
Hart – ハート
Hayashi – ハヤシ
Heroes – ヒーローズ
Hoshino – ホシノ or Impul – インパル
Manaray – マナレイ
Michelin – ミシュラン
Rays – レイズ – Volk – ボルク
Riverside – リバーサイド
Sharak – シャラク or シャーク (Shark)
SSR – Speed Star – スピードスター
Toms – トムス
Watanabe – ワタナベ
Weds – ウエッズ
Work – ワーク
Some other searches that also work well for me are below. A lot of times persistent searching can discover wheels that are mis-named by the seller, or simply listed as unknown or generic wheels.
Mesh – メッシュ
Center Lock – センターロック
Junk – ジャンク
Unknown – 不明
Light – ライト
Rare - レア or 希
Aero – エアロ – Cover -カバー
Star - スター
Shark – シャーク
Spoke – スポーク
Longchamp – ロンシャン
Mark – マーク
Race – レース – Racing – レーシング
Rally – ラリー
Gravel – グラベル
Formula – フォーミュラ
Equip - エクイップ
Techno - テクノ
Impul – インパル
Hachiroku – ハチロク
Hakosuka – ハコスカ – Kenmeri – ケンメリ
Nostalgic – 当時
Old Car -旧車
Yayoi – ヤヨイ or 弥生